Remember meeting the Dregers? That awesome, fun couple who bought a Grand Design Imagine 2670MK from us and lived in their RV for nearly a year straight?
Well, they are back for the best day of the year (National Cat Day, of course), and if you read their first blog post you likely already know why. Alex and Kate Dreger traveled across the country with their six cats – The Cross Country Camper Cats! It goes without saying that a feat such as traveling over 8,500 miles with six cats made for many memories and also came with some challenges.
If you are considering traveling with your pets, this article is for you! The Dregers share their experience, so you can pick up some tips and tricks!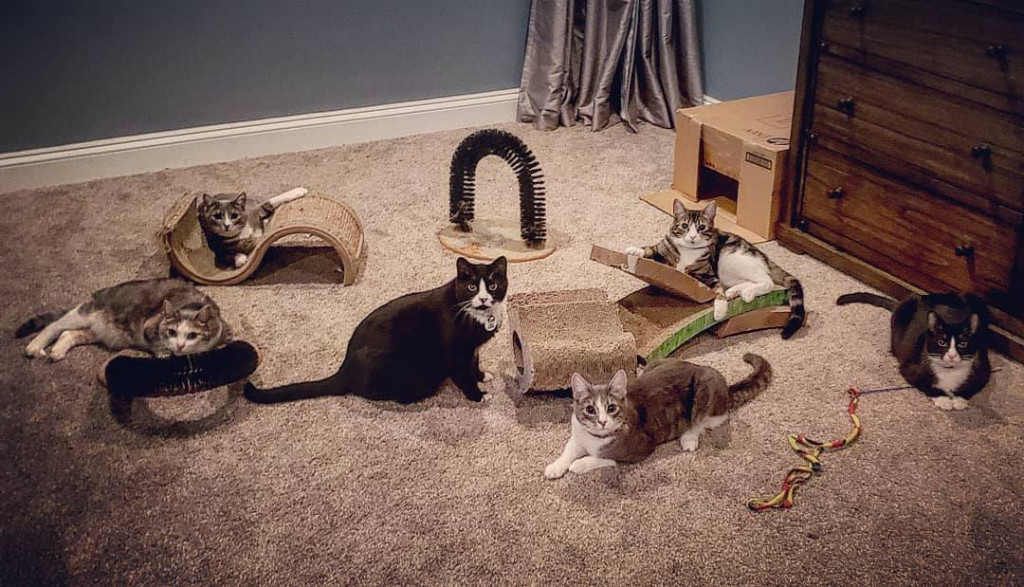 Meet The Cross Country Camper Cats:
We'd be remiss to not introduce you to the cute crew before we get started!
First up: Little Girl and Simon. Little Girl is about 13 years old and has been Alex's little princess since 2010. Simon is 6 years old and is Kate's main boy. "Don't get us wrong, we love all of them the same, but Little Girl and Simon are the OG's!" explains Kate.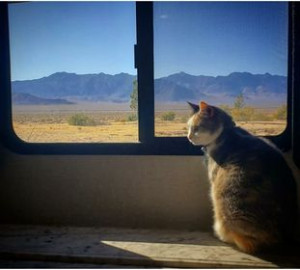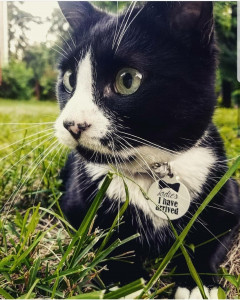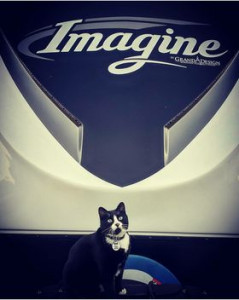 The other four cats (Bianca, Little Buds, Sophie and Wolf) are a little over three years old now, but Kate and Alex still refer to them as "the kittens." They were part of a litter of seven kittens who were all found in the Spring of 2017 in Alex's dad's garage. The Dreger couple was able to catch the kittens and get them to the vet to be checked out, up to date on their shots, and spayed/neutered.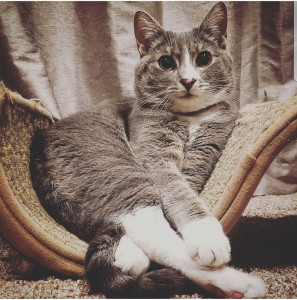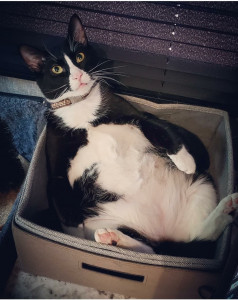 Kate reflects on the memory: "We worked tirelessly for months to get them to trust us. Once they began to trust humans, we found homes for three of the kittens and mama. We got so attached to the remaining four, that we could not give them up, and came to the realization that our family grew from two sets to six sets of cute little toe beans!"
How To Travel With 6 Cats: 
Kate and Alex knew from the start that traveling with six cats would be a challenge, but it was one that they were up for! The four feral kittens, although having been around for just over three years, still can be nervous and timid in certain situations. "They only really trust us, and sometimes that isn't even true," jokes Kate. Prime example: The second they hear the stabilizer jacks start going up, they know what is happening!
The Dregers stayed at 33 RV parks during their year traveling. "While we are aware of the very unpopular opinion of leaving your pets in your rig while driving, this was the best of the only two options for our situation," explains Kate. Moving the cats from trailer to truck and truck to trailer 33 times would have been way more stressful and traumatizing for everyone, and probably impossible. Their babies found comfort in the trailer, where they had "their spot" behind the couch to cuddle up together. Kate and Alex also made a pass through under the storage bench so the cats had easy access behind the couch. "This was our first 'mod' when we realized they loved to cuddle behind the couch!" says Kate.
Pro Tips:
Kate and Alex have a small camera that they use to keep an eye on the cats while in tow. They also keep a wireless thermometer in the rig so they can monitor the temperature from the truck. This gives peace of mind to them while traveling!
"We would make sure to stop every 100-150 miles or at least every 2 hours (we would have to in order to get gas anyway!). This gave them the opportunity to come out for a little to use the litter box and grab a bite to eat. They would always be in the windows taking in the new sights within minutes of us arriving at our next site," says Kate.
Consider Your Pets When Buying Your RV:
While Kate and Alex were selecting their first RV from Tom Schaeffer's, they were not only looking for the perfect space for them, but also keeping in mind space for the cats and their items, especially where to put the litter boxes.
The Grand Design Imagine 2670MK that Kate And Alex fell in love with has a desk in the rear, and underneath the desk was the perfect spot to put the cat's litter boxes. "We have been to many RV shows since becoming RVers, and while we tour other rigs, we can't help but base if a rig would be compatible for us or not by the options for where to put their boxes."
Kate and Alex also have to consider where to put their food containers, toy bin and cat castles. "While most who have the same TT as us use the blank wall in the living room to add a storage bench, we use it for our @feandrea.pet castles! Grand Design RVs come with the pet dish drawer, but we opted to use that for storage and leave their food dishes out for them to snack whenever they want. With so many of them, having a designated feeding time would be just as crazy as having six cats in a trailer," explains Kate.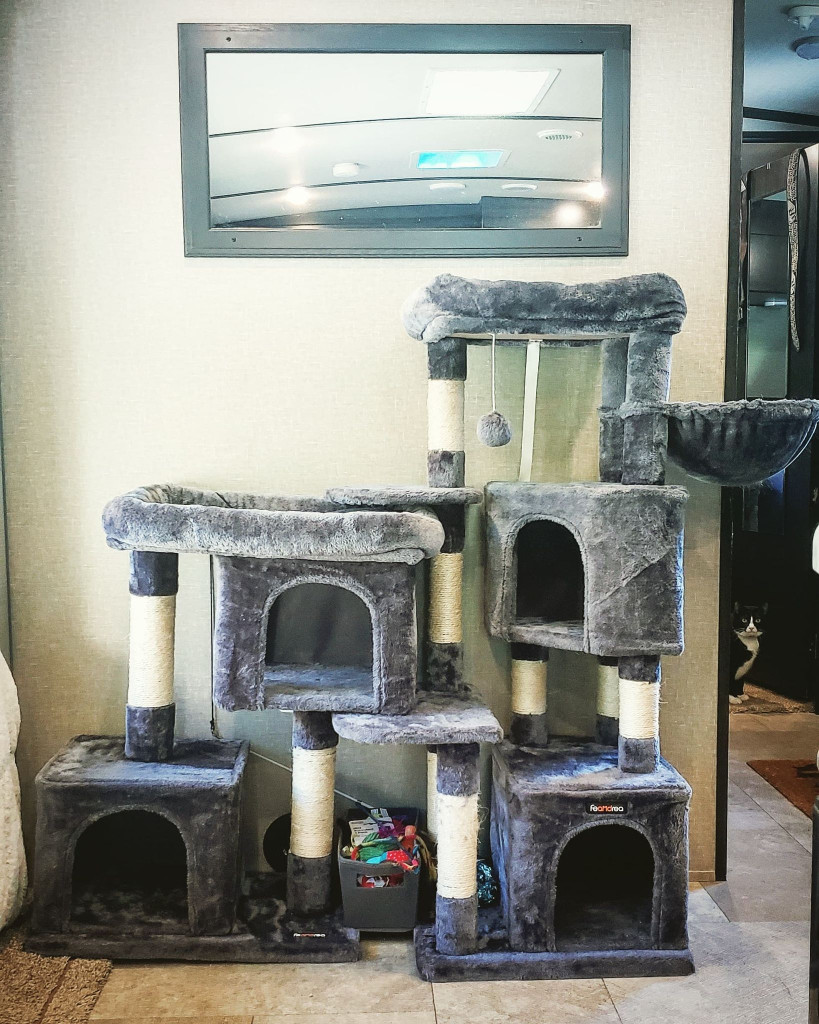 How To See The Sights While Caring For Your Pets:
Most of the time, Kate and Alex were "home" in their RV while on the road. They were settled in where Kate had her nursing contract for up to a few months at a time. However, there were times when they wanted to go away when they had a few days off and found it best to leave the camper and cats were they were. How'd they make this happen? Cue the Rover app!
"The sitters we found in CA and WA were amazing!  They sent us photo updates of the cats when they stopped in for their visits!  We always felt that they were in good hands with the people we found on the app," says Kate.
Not Everything Can Be Positive:
Of course, each day on the road with six cats wasn't always a walk in the park. They did have one bad experience (but considering they were on the road for 326 days, that's pretty good odds!)
The experience took place in Washington while staying at Rainier View RV Park. Little Buds decided he wanted to go on his own adventure. "The cats were going crazy, chasing each other around the camper as they do, when all of a sudden, LB came hauling across the bed and for some reason jumped at the egress window, which was open at the time, and blasted through the screen and ended up outside," recalls Kate. This was the first time the cat was outside since the day they found the kittens and brought them home.
The Dregers were almost certain they wouldn't see him again, giving how timid Little Buds is in a normal situation and how he doesn't like people approaching him. Despite this, they did not give up and kept looking for him for the entire day, from 9 AM to around midnight. "The whole campground was made aware and a handful of the residents were out helping us search for him. We put out a Have-a-Heart trap in the area where we thought he may be. We were ready to call it in for the day and decided to do one more sweep," explains Kate. Sure enough, while searching the hedgerow less than 100 yards from their camper, just feet from where they had placed the trap and where they had been searching must of the day, Kate caught the eyes of a terrified Little Buds. He was hiding under a pile of brush. The Dregers were able to successfully place him in a carrier and bring him back to the camper. "That was followed by balling our eyes out in relief that we found our boy! We were so thankful for the way the residents of the campground instantly came together to help us search for him," says a grateful Kate.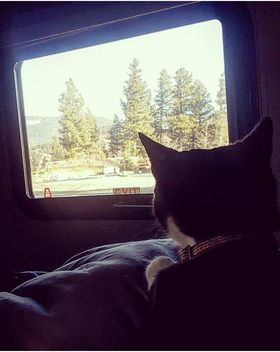 Transitioning Back Home:
When the Dregers arrived back home nearly a year after being gone, they were impressed with Little Girl and Simon's ability to transition back home. "They remembered the house immediately," recalls Kate and Alex. On the other hand, the kittens seemed to have an easier time transitioning from the house to the camper than the camper to the house. The kittens like tight spaces, being in the same area as one another, and everyone being able to see them, so this makes sense. Even now that they are back in the house, you can still always find the four kittens together.
Last Words of Advice From The Dregers:
"Don't let having a pet / pets hold you back from traveling!  If we can do it with six cats, it is definitely possible for most!  We have met people who travel with bird, reptiles, large dogs, small dogs… even mini pigs! Having them by our side in this journey has definitely made it more fun and entertaining!"