If you are one who likes adventure and travel, then Kate and Alex Dreger just may be your new best friends! This couple decided to take the leap and go all in with RV life, traveling across the country from January 2, 2019 to November 24, 2019. Learn about what it was like living out of their RV for nearly a year straight through our new series, Driving with the Dregers!
Kate and Alex will be talking about how they made their dream of living out of their RV a reality. If you are new to RV life or considering living on the road – two scenarios familiar to many right now given the pandemic – be sure to follow along!
The Dregers will be providing tips and tricks from their real-life experiences… and we all know experience is the best teacher. Keep an eye out for these upcoming articles, from the best locations to hike across the country to some of the best things to pack before you hit the road (that you won't think about until after you leave).
As Alex said so well, "You'll be amazed at what you can handle on your own when you have no other choice." Through their experiences, Kate and Alex will be able to tell you what to expect when you're not expecting it.
An Itching to Travel
Kate and Alex have always loved traveling, but their jobs often got in the way. Kate was a staff RN and Alex worked at an auto body repair shop, so they were limited to one 7-10 day trip a year. This limited how far they could go and how much time they could spend at certain places. "I began looking more and more into travel nursing and finally convinced Alex to give it a try. It took a little convincing to initially get him on board, but once he realized what the opportunity would be for us, he was excited" recalls Kate. Alex had the same solid job since high school and was on his thirteenth year at the auto shop. He recalls that it really came down to one simple question: "When will I ever have this opportunity again?" Alex told himself "Why not… let's do this."
They decided that if the worst-case scenario happened, they would just come home. However, they knew this would not be an issue up front. "We had done some big trips to The Great Smokey Mountains, Niagara Falls, Acadia and that whole area up North, and even a road trip from Miami to The Keys and back," says Kate. The couple also has spent many long weekends at their favorite getaway, Gettysburg.
Once they made the decision to live on the road for a year, they dove in and started researching. Kate worked with a recruiter to find open travel nurse positions. Once she had two assignments solidified, Alex and Kate were on the hunt for a travel trailer and truck. "We spent months watching YouTube videos to get a feel for what the RV life was about," they explained. Their biggest inspiration? "We watched all of the YouTube videos from Keep Your Daydream, studying for months. Marc and Trish were a wonderful platform to learn from! They are very informative, yet entertaining. Perfect mix of the two, so you never get bored watching, but you are almost always learning," explains Kate. Kate also draws inspiration from @we.the.wanderers, a travel nurse couple living the full time van life.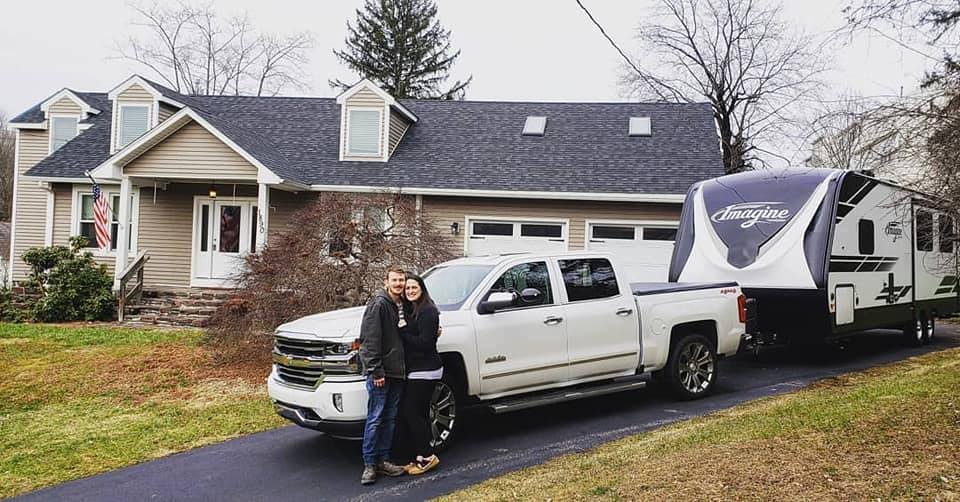 Choosing the Right RV for the Trip
The Dregers did MONTHS of research on what RV to purchase. The winner? An Imagine 2670MK travel trailer by Grand Design took the cake. "Grand Design had a very modern look to their interior and the price was very affordable for the product that you get! We are very happy with our Grand Design!" explains Kate happily.
Aside from Alex's 1969 VW bus, this was their first rig. "We had taken the VW bus camping a few times but were very limited to distance! It was a super cool vehicle, but lacked important comforts, such as having a toilet," explained Kate.
Once they had their heart set on the Grand Design Imagine 2670MK, they searched for what stores in the area had their dream RV in stock. "We saw that Tom Schaeffer's was the closest dealership to us with a 2670MK in stock. By then, we had narrowed our search down to a few models and were sure that we wanted to go with a Grand Design. Schaeffer's had the largest selection of Imagines around when we were looking," Kate says. With that, the Dregers were headed to Shoemakersville!
"Our salesman Bob, who has since retired [sad face!], was fantastic," recalls Kate. "After we picked up our rig and were taking it home, we decided to take it to a local campground first. We wanted to be sure we had the hang of what it would be like to set up and break down since the next time we would be taking it out would be at the start of our journey across the country. Bob made sure he was available for us, even after hours, and told us to contact him if we had any questions or concerns with anything during the process. He even texted us to check in when he hadn't heard from us because we did a stellar job getting set up our first time!"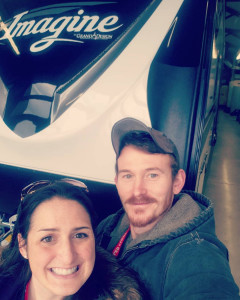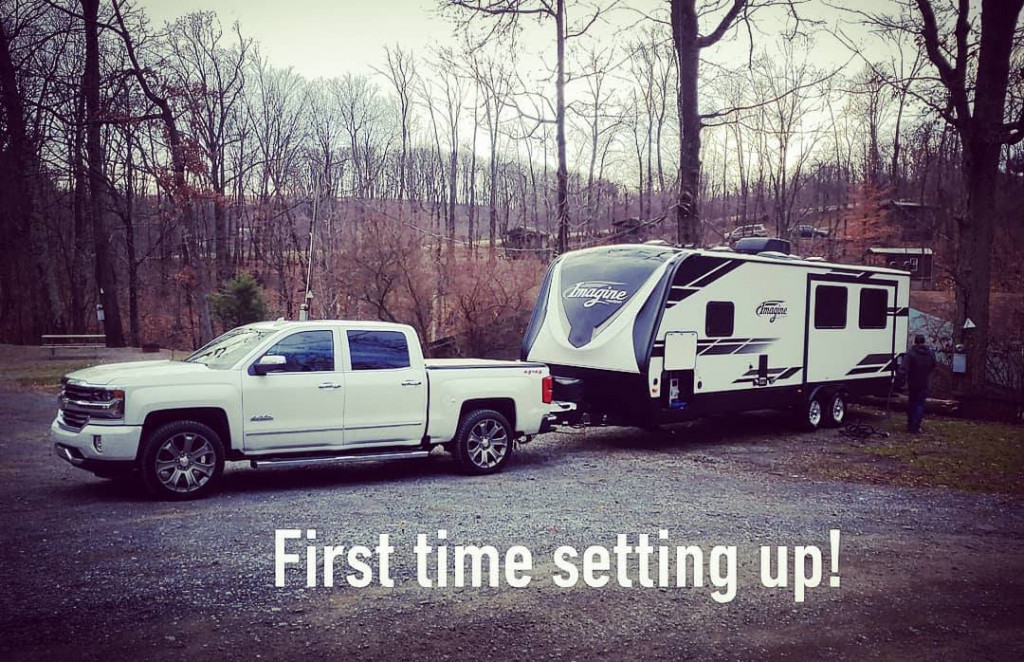 The Journey Begins – Destination: Washington State
Kate's first contract gig as a travel nurse took place in Puyallup, Washington, about an hour south of Seattle. On January 2, 2019 the Dregers said adios to Doylestown, Pennsylvania (about 45 minutes north of Philadelphia) and headed to Washington state. "We took a three-week trip to get there. We pretty much put as many miles behind us as we could right off the bat until we got to Colorado," recalls Kate and Alex.
In Colorado, they stayed at the Denver West / Central City KOA. It was here that the couple ran into their first RV life "incident," which they now look back on and laugh at with full smiles. "We were only in our first week or two of traveling when we got here. We noticed that no one set up camp at the top tier of the mountain the KOA was located on, which sat 9,000 feet above sea level, so naturally we went right to the top tier for the view," explained Alex. It just so happened that there was 85 mph wind that night, with constant gusts at 60 mph at least, thus explaining why that top tier may have been left vacant. "We noticed things but didn't put it together until it was too late," recalls Alex with a laugh. The takeaway from this memory? Alex and Kate now know that it takes 120 mph wind to flip over your RV. Alex learned this the hard way, frantically Googling it and trying to keep himself and Kate calm while they worried they were going to tip over. Grand Design Imagine 2670MK: 1. Colorado: 0.
Aside from this event (which may or may not give Kate a bit of PTSD when brought up), it was smooth sailing to Washington State. "The only other thing we ran into was that we had a lot of wind in Kansas and had to drive slow, but that doesn't compare to the wind experience we had in Colorado," says Kate. The couple lived in Graham, WA at Rainier View RV Park, which Kate describes as "a name very fitting and self-explanatory." This park was also tiered, so every level had the most amazing view of Mount Rainier. "That was NEVER old to come home to," they reminisce.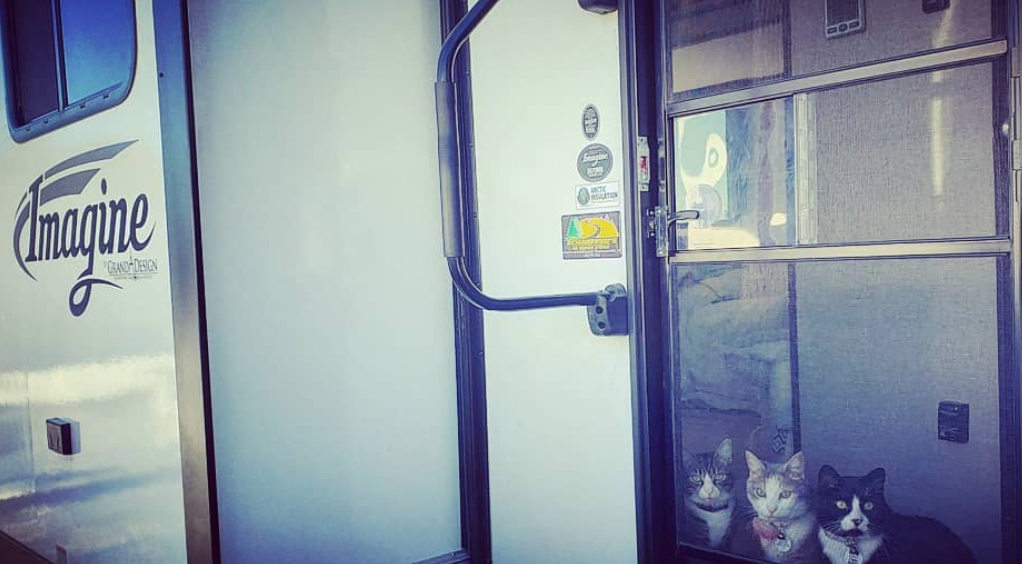 A Surprise Addition (Times Six)
"Our six… yes, six… not a typo… SIX cats traveled with us. These cats have seen more states and national parks than most people!" exclaims Kate. You can even follow their adventures and live vicariously through them on Instagram @cross_country_camper_cats! Little Girl, who is approximately 13 years old and daddy's little princess (as her collar even states) and Simon, who is 6 years old and momma's boy, were both allowed to go outside of the trailer. The other four cats, Sophie, Wolf, Little Buds and Bianca, are all siblings and stayed together inside the trailer.
Since the kittens are a bit more timid, Alex and Kate left them in the trailer while in tow. They knew that taking them from the truck to the trailer each time they moved would be difficult and stressful for everyone. Not to worry – They had a super comfy area behind the couch with a big, fuzzy comforter for them to snuggle up in together. On longer drives, Alex and Kate would take breaks about every 100 miles or so to check on their kitties. "As soon as they heard us start putting the stabilizer jacks up, they knew we were moving! By the time we were set up at our next location, they would all be out running around and playing like nothing ever happened," explains Kate.
There will be plenty more to come regarding tips for traveling with pets, how the cats transitioned to life back at home, and more (including that one-time Little Buds broke through the emergency exit screen and everyone at the campground helped find him).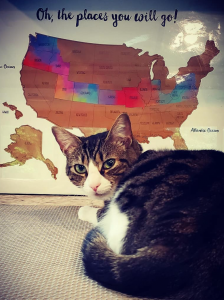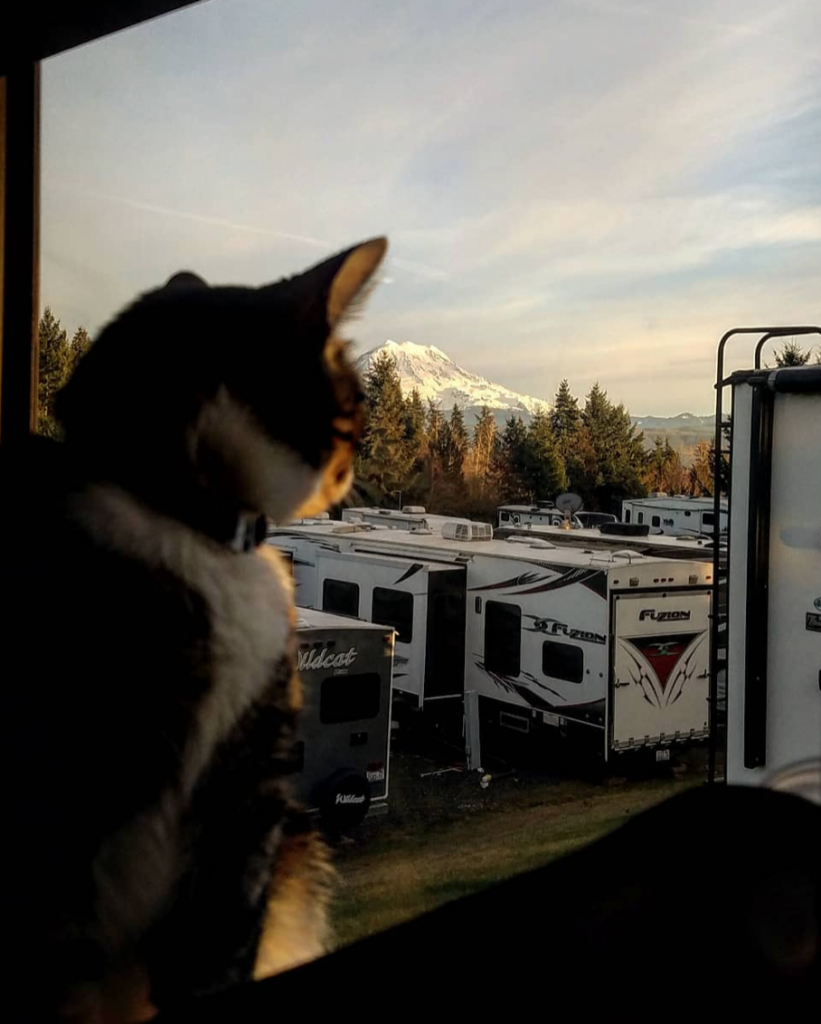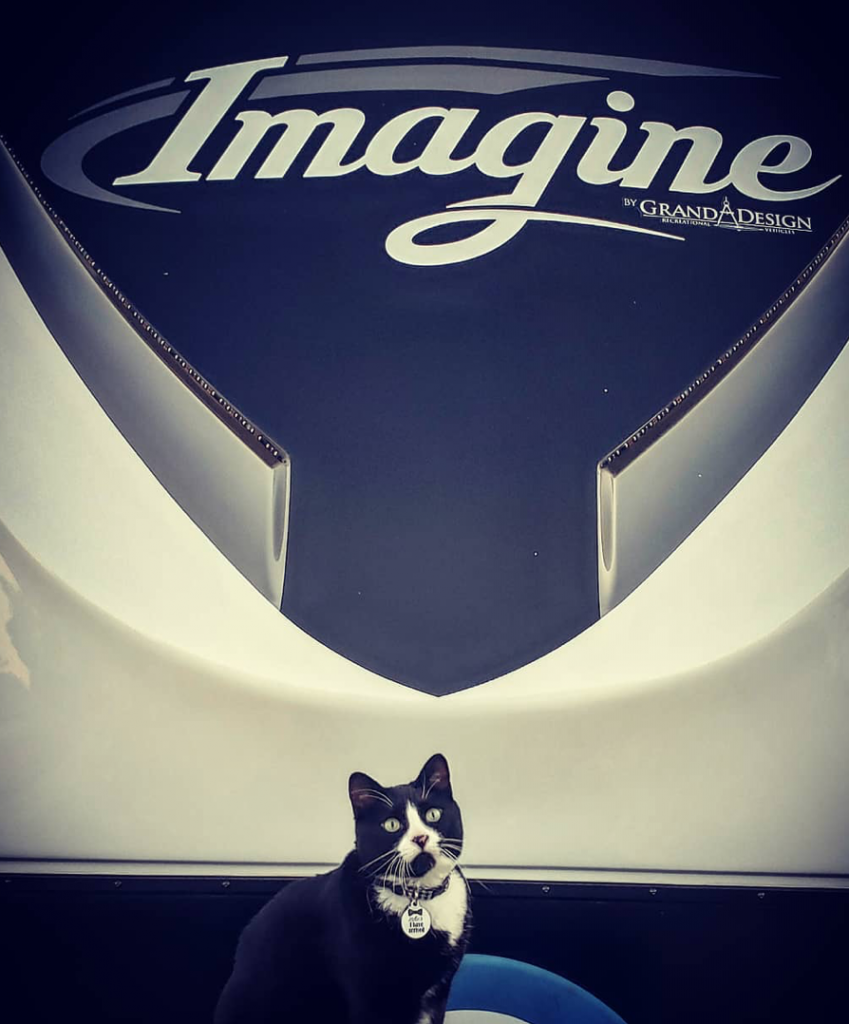 RV Life in Full Throttle
While Kate was working, Alex would do what he loves – hiking! Not to worry, he will have plenty of hiking locations to recommend soon! Alex LOVED Washington. There was so much to do, and he was never bored. His favorite place to hike in Washington was the North Cascades National Park. However, it wasn't all fun and games for Alex. Since the couple was renting their house out while they were gone, Alex was a remote landlord 24/7. He also handled all of the RV repairs. "If we were driving down the road and put something under our sink that ended up cracking the pipe, I would take care of fixing that, for example" explains Alex. Now you know why Alex will have plenty of tips and tricks for RV maintenance and repair while on the road.
When Kate's first assignment ended in May 2019, the couple began a month-long trek down through Oregon to California where her next assignment was in Templeton. The Dregers lived in Paso Robles, which is basically a smaller version of Napa (cue the delicious wine!). Their Imagine 2670MK arrived at its new home base, The Vines RV Resort, on July 14.
"I enjoy hiking, but appreciate a slower, relaxed lifestyle with a glass of wine more, so I loved California," says Kate. Kate worked her California assignment through to October, and on November first the couple started their three-week trek back home, just in time for the holidays! Throughout their entire journey, the couple stayed at 33 RV parks, including resorts and Harvest Hosts locations, and visited 16 National Parks!
Which location was their favorite? Naturally, that is a hard choice. "To be honest, we went to SO many awesome and unique places during that year that it is difficult to choose, as each place was special for those unique reasons. Whether it was off roading through the desert or staring at the bluest water we have ever seen in a lake created by a volcano, each experience was as memorable as the next," gleams Kate. If the couple had to pick a specific location, they would choose The Olympic Game Farm in Washington. Kate gives her endorsement: "If you are ever in Northern WA and love animals, we urge you to stop here! PS: Heed their warnings to not stop your vehicle!"
Looking back on their trip nearly a year later, Kate and Alex talk about it with a longing to go back for more and with a loving twinkle in their eye. According to Kate "the most rewarding part was the entire adventure in itself! We were truly lucky to have some across such an amazing opportunity and actually pull the trigger and go. Also, being newlyweds, this was the truest test of our relationship since it was just us and the cats! We came out of it alive and still love each other. Negative things were only said when trying to park the camper, haha!"
Stay tuned for our next #DrivingwiththeDregers post!