We're getting to know the Eyer family this National Get To Know Your Customer Day. After a lifetime of outdoor adventures and with the dream of becoming full-time state park camp hosts, they traded in their travel trailer 2021 Grand Design Solitude 378MBS.
Mandy and Jared Eyers have several decades of camping under their belts, first developing their shared interest and love of the outdoors through the Scouts of America. They introduced their children to tent camping, and spent years going on camping adventures upgrading the family accommodations through the years first, to a pop-up camper, then a travel trailer, and lastly, a fifth-wheel.
The Eyers would like to thank their sales consultant Jason Himmelrich for asking for their story.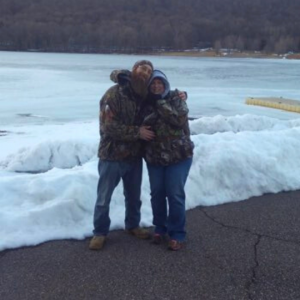 Learn all about how the Eyers air on the side of outdoor adventure:
The Eyers First, we would like to say thank you to Jason Himmelrich and Tom Schaeffer's RV for asking us to share our story.
1. How did you become interested in RV travel?
The way we became interested in RV life started before Mandy and I met. As a youth, Mandy was involved in Girl Scouts of America and spent time outdoors with her mother, her Troop leader, and her troop mates. I have been involved with the Boy Scouts of America for about 32 years. I am still a part of the organization at Hawk Mountain Council as a youth leader and camp maintenance committee member. I help upkeep the reservation for the scout to go camping.
We started off our camping careers in a tent taking our children Patrick and Emily to the woods. We camped in tents for about 16 years, in all weather conditions. Our kids joined the scouts as well, and we went family camping every year for vacation. In September 2016, Mandy's boss at the time mentioned he had a 1987 Coleman Columbia pop-up if we wanted it.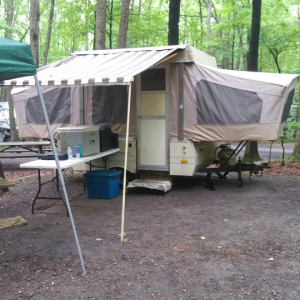 We took him up on his offer, it was in great shape, so we took it home with us. We agreed that sleeping on the ground was starting to get rough and time-consuming. After that, it wasn't long until we bought our first travel trailer from Tom Schaeffer's RV, just after father's day of 2017.
We were camping at Locust Lake State Park looking at RV websites and came across a sale price on a 2017 Keystone Outback 255UBH. The bug hit me, I kept looking at it and Mandy agreed to go look at it. So we came to Schaeffer's and decided to roll the dice and get it. We to the Keystone around to different PA state parks once a month going for 5 years. We continued looking at different RVs on the market. Once we decided to retire and become state park camp hosts living in our RV full-time we seriously started to look at larger models. We chose our current RV, a 2021 Grand Design Solitude 378MBS.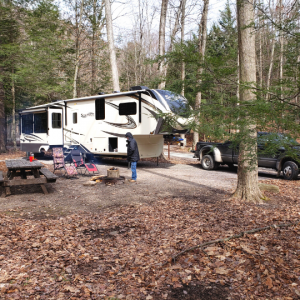 2. What do you love most about your RV?
We most love having shelter from the elements and a place for our family to be together. The ability to pick up and go whenever we want is a plus.
3. What was your purchasing experience with us like?
Our first experience was good, we were so stoked to get approved for the travel trailer! Our recent one was exceptionally awesome because of dealing with our salesman Jason. We are looking forward to camping with him now that he has his a fifth-wheel.
4. Why did you choose your specific RV Model? Was it the size? Any special features?
There were many items that we required when talking about living in an RV. For me, as a career plumbing contractor, it was the shower in our unit and the design of the fixtures. The outside kitchen and the 40′ length were also a plus. For Mandy, it was the floor plan and having an additional room for guests and family members to stay with us, and a work area when they aren't. The washer dryer hookups were also a must for her.
5. What do you love most about RV Travel and the RV Life Style?
RV travel has encouraged us to travel to different state parks throughout Pennsylvania and in other states. We love being able to wake up in nature where ever we are and leaving day-to-day life behind.
6. What activities/ hobbies does your RV help you to enjoy?
We love cooking, having the ability to make a full-size turkey in the rig's oven or outside with the exterior kitchen plus having the room to store the equipment to do so. I enjoy cooking in Dutch Ovens, so the extra space is perfect. We also enjoy going for hikes, looking for different wildlife and plants.
7. How often do you go out camping in your RV?
We go out in our RV at least one weekend a month sometimes two for 10 months of the year. Starting the first weekend in March and typically ending in late December just before Christmas.
8. What was the most beautiful site you saw on your travels?
One of the most beautiful sites that we saw to date while camping was at Rickett's Glen state park. We hiked the 13 mile series of 33 waterfalls. Mandy said I was trying to kill her. 😂 We have seen a lot of beautiful things while camping in different parks.
9. What is your funniest memory from your RV travels?
Although it was dangerous, our funniest memory was when a gentleman in a campsite next to ours accidentally cross-threaded a propane lantern top at night. When the top blew off the tank the safety valve stayed open and shot a 20-foot high flame in the air for 30 minutes. I went to help the gentleman, first making sure it was not going to start a major fire and we all laughed hysterically.
10. Have you met any new friends through your travels?
We have met and talked to many people while camping in different parks. We made friends with a couple from New Jersey while staying at Hickory Run State Park. We found out that we had a lot in common because Tom was a plumber also, and makes custom welded figurines from nuts, bolts, and bicycle accessories. So we shared in other mechanical workings.
11. Where is your favorite camping spot?
Our favorite place is Locust Lake State Park where we would like to host in the future. We also start and end our year at French Creek State Park. Although we have stayed at many places over the years. Some of our favorites are listed below.
-Locust Lake State Park
-French Creek State Park
-Hickory Run State Park
-Gifford Pinchot State Park
-Rickett's Glen State Park
-Pine Grove Furnace State Park
-Raymond B. Winter State Park
-Worlds End State Park
-Laurel Hill State Park
-Shawnee State Park
-Promised Land State Park (Pickerel Point) Little Buffalo State Park
-Cherry Hill Resort MD.
-Hawk Mountain Scout Reservation
(And places new for this coming year include)
-Black Moshannon State Park
-Bald Eagle State Park
-Ohio Pyle State Park
-Cape Henlopen State Park DE.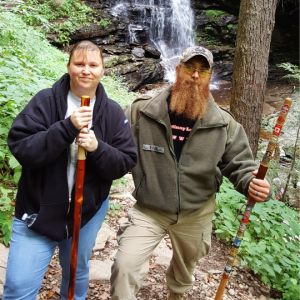 12. Do you have a favorite story or memory you would like to share about your travels?
Some of our favorite memories include midnight walks on the beach at RB Winter and Locust Lake in a full hunter's moon, where it was as light as day and dark as an eclipse under the trees. Our favorite stories include when we went to Pickerel Point, in late January of 2019. We were the only travel trailer in the entire park. It was 9 degrees during the day and -9 at night. The wind whipped across the frozen lake. We heard someone else enter the park late that night. In the morning when we woke up, we saw a tent across the street, and 3 cold teenagers with sleeping bags. They had come from Delaware and booked the site 2 days prior. They were so very unprepared, they came with a box of frozen hamburgers forgetting to bring fire starting equipment or a grill to cook with. Mandy and I assisted them in getting a fire started, as all the wood in the camp was wet and frozen. While helping them we found out that two of the boys had been in scouting as youths. Once they found out my background they were very appreciative that we saved their lives and trip. 😂
On the same trip as we were packing to leave when it dumped 2 inches of snow on us in an hour. This is our scariest memory from a trip now. Leaving the park there was a 1 mile 14% uphill grade, which already had been packed down with iced from multiple people driving in and out to ice fish. As we headed up the hill pulling the trailer we got pushed off the tracks in the snow by another vehicle coming down. We moved over and had to get out of the truck to manually lock the 4×4 hubs. I couldn't let my foot off the brakes without the truck and trailer sliding down the hill, so Mandy had to. She ended up slipping off the side step and sliding under the truck. She was alright but afterward, we agreed not to head that far north in the winter again. In the winter we stay local at French Creek. We have camped there in 10 to 12 inches of snow and during an ice storm where ½" of ice fell while we were gone. I rather enjoy winter camping, I'm used to it from my scouting days. It's is always preferable to have a nice warm RV to sleep in when it's cold out and not to stay in a chilly tent. Although I still tent camp year-round while scouting, I give a shout-out to those that do it regularly. P.S. we still occasionally use our pop-up camper from time to time.