Tom Schaeffer was a much-loved man, as a new employee I was lucky to have known him for a few weeks before he was hospitalized, just before the holidays. 
Christmas is always a big affair at Tom Schaeffer's RV Super Store, the Schaeffer family hosts a huge Christmas party with gifts for the entire staff, who tell me that Tom had always been central to the activity. He seemed to bring the celebration with him.
One of the fun and quirky holiday traditions we all enjoy is the Christmas Ugly Sweater Competition, a day when everyone comes to work in their most hideous holiday sweater, and we all compete for prizes!
I was honored this year when Mary Reinhart, Tom's daughter, asked me to make a Get Well Card for Tom, featuring picture from this years Ugly Sweater competition. It was fun to make and everybody helped which infused it with true holiday spirit. We all hoped it would cheer him during his hospitalization.
After finishing the card, I walked around our large facility and asked our many employees if they would like to sign it, or write an encouraging message to Mr. Schaeffer. I quickly noticed that the employees in all of our departments were more then eager to get a message back to Tom, to let him know they were thinking of him and they all wished him well. 
As they signed, we chatted, and several employees told me personal stories about how much Mr.Schaeffer had done to help shape their lives, while others spoke of tough days, which Tom had made better by sharing a joke and a laugh. It was clear how much Mr. Schaeffer meant to them all, and that this year, without him there, the light on the celebration would be dimmed.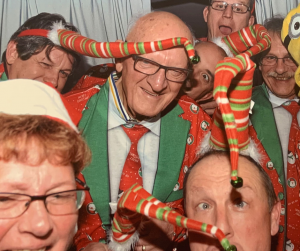 I was fortunate to have met Mr. Schaeffer a few weeks before he was hospitalized and wish it could have been longer. It is clear why Tom Schaeffer was loved by his employees, who knew him really well. Here are some of their warm and beautiful thoughts: 
"Tom showed me that you can be successful, but also humble"
                                                                                                                                                -Ron
"It's nice to be nice. Always be kind and treat others like you want to be treated"
                                                                                                                                            -Donna 
"Mr. Schaeffer always went out of his way to give our customer's doggies treats and pets. His love for animals always shined."
                                                                                                                                          -Rachel
"I came in after a snow storm at 6:00 am to find that Mr. Schaeffer spent the entire night plowing the parking lot. I took over so that he could go to bed"
                                                                                                                                             -Terry
"He helped me to become a better person. He was a true mentor"
"Tom was always encouraging and a positive light no matter what the circumstances". 
                                                                                                                                         -Rachel
"I was going through a tough time in my life, I told him my story and he encouraged me to keep going no matter how bad things got. That things would eventually get better. He could relate to anything I said without judgement, made me feel at home and  made me laugh. He was always interested in my well-being"
                                                                                                                                         -Heather 
"Life is about more than just yourself".
"Mr. Schaeffer taught me to always be truthful with people even if it hurts."
                                                                                                                                            -Terry
"Work hard, but keep it fun."
                                                                                                                                          -Rachel
"He always had treats ready for any and all dogs that came into the business"
                                                                                                                                                -Ron
"He gave me a part time job in the evenings working in the store. He did this after he found out  I had taken a part time job to supplement my income so my wife could stay home with our children." 
-Terry
"He would always listen, even when he didn't agree with me."
"He helped me by providing a great place to work."
-Kent                                                                                                                                      
"He treated me and my family like they were a part of his family."
                                                                                                                                             -Terry
"You can do business and be professional, while having fun. You can and should love what you do and put 100% into whatever you do in life. Tom epitomized this." 
                                                                                                                                               -Ron
"He always made you laugh either with a story or just through talking. He was always positive and upbeat".
                                                                                                                                          -Heather 
"Do what you love and love what you do." 
                                                                                                                                              -Kent