Wow!! Is it really August already?? We can't believe how fast this summer is going and how quickly the time has passed here in North Conway, New Hampshire. Only eight more weeks and we will be leaving this workamping job and moving on to our next location.
Working in this area of NH has been beneficial in so many ways. First of all, the White Mountains are gorgeous! There are so many hiking trails, we feel like we could live here for 20 years and still not be able to hike them all. There are also tons of places to go kayaking.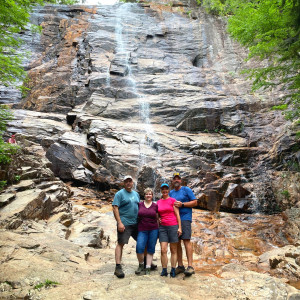 So far, we have explored the Saco River, Lake Chocorua, and Lake Ossipee. Another benefit to working in NH is that Pennsylvania is within a day's drive which is where most of our family and friends live. We are fortunate that several of them have made the journey to come and visit and spend time with us here in the campground. Certainly, the hardest part of this lifestyle is being away from the people we love, and we feel so blessed when we get visitors from home.