There's nothing more satisfying or comforting than indulging in a steaming bowl of pasta bolognese or marinara piled high with parmesan cheese. But, did you know that although the word pasta is Italian, it was most likely invented in China 4,000 years ago?
Last Sunday was National Pasta Day. To celebrate, Sales Consultant Lee Barto, AKA Chef RV shared his mouth-watering recipe for Shrimp Lo Mein, another classic comfort food in its own right. If you're not in the mood for shrimp, swap it out for another protein source!
So you have a hankering for some Chinese food but your local restaurant is closed or is not doing delivery? There is an easy method to creating the same look, flavor, and aroma right in your home kitchen with very minimal equipment. You don't even need a wok or a fancy rondeau pan to get the authentic tasting dish.
Do not be intimidated. The hardest part to much of Asian style cooking is the preparation. Much of the cooking is done on high heat and very rapidly. The goal is to allow yourself to be fully organized before you put that pan on the range. Proper knife techniques towards your proteins and vegetables is critical. In many cases, the ingredients are prepared in smaller sizes, finer cuts and more uniformity to allow the cooking process to be rapid and even throughout the dish.
Another great part to this style of cooking is it crosses over with many proteins, vegetables, tofu, and non-meat options. The core sauce and ingredients is the key. For example: You have a fantastic method and recipe for shrimp lo mein (see bellow), but you are not in the mood for shrimp. You would rather have chicken or beef lo mein. Simplest answer, just change the protein but all else stays the same! The method is the same, the core sauce stays the same and all the measurements stay the same. Pretty simple right?
Let's dive into this a little bit more with some ingredient breakdown and ideas on how to prepare them. Check out this image of a fully prepped meal ready to cook.
Almost all of the vegetable ingredients are thin sliced and uniform. Like i said previously this will allow the cooking process to be hot and fast. The Lo Mein noodles are already cooked to the specifications on the package, shocked in cold water (to stop the cooking process), and drained.
*Side note: when you are searching for the noodles look for your grocer's international isle and try to work with egg white egg noodles. They normally come in 10oz packages and are right around the Asian sauces. If you are unable to find them at your market by all means use any thin long pasta your would like and cook them to "al dente" per the package's instructions.
The shrimp are peeled, deveined, and raw. The garlic and ginger are minced to allow for fast aromatic transfer. The sauce is pre-measured, and pre-mixed because once you start to cook you want to move quick!
So now let's see what my recipe entails and get prepping…
Ingredients for the Sauce:
1/4 cup chicken stock, bone broth or low sodium broth
4 Tbsp oyster sauce
1 1/4 Tbsp Standard soy sauce (or low sodium, your choice)
1 1/4 Tsp Cornstarch
1 Tsp Sesame oil
Preparation for the Sauce:
Mix all ingredients evenly with a wire whisk and reserve. The cornstarch will settle to the bottom and feel like wet sand so keep your whisk for the cooking process since you will need to remix before adding to the noodles.
For the Noodles and Vegetables:
2 1/2 Tbsp Minced Ginger, skin removed (use either a spoon or the back of a knife to remove the brown outer layer)
2 Tbsp Minced Garlic
1 each peeled and sliced (1/8 inch match stick) Carrot
1 each sliced (1/8 inch match stick) Zucchini
4 each sliced (1/8 inch match stick) Cremini or shittake Mushrooms
10 oz package cooked noodles chilled and drained
1 lb peeled/deveined raw shrimp
3 Tbsp High heat oil (avocado oil, corn oil etc. do not use olive)
4 each green onion tops (only the green portion) sliced thin on a bias (for finishing and garnish)
Method to Deliciousness:
Using a high sided heavier weight pan, wok, or saute pan (if you have a dutch oven style pan they work well too since they hold heat very well), start to heat it on med/high.
*Check out the Pic of the le Creuset enamel cast iron pan that was used in this preparation to give you and idea.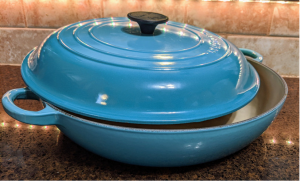 Add in high heat cooking oil and look for the oil to ripple or show a clear smoke.
Toss in ginger and garlic and with a temp safe spatula or wooden cooking spoon keep it moving in the oil so it doesn't burn.
After about 30 seconds add your shrimp and saute for around 2 min or until semi pink constantly moving on the same higher heat setting.
Add your carrots, mushrooms and zucchini and saute for 2 minutes constantly moving as well with the shrimp.
Remix your sauce with a whisk and add noodles to the pan tossing with the other ingredients for 30 seconds.
Add remixed sauce and coat the noodles thoroughly. Allow sauce to reduce for about 1 minute and thicken.
Pour onto a platter and top with the fresh sliced green onion and serve.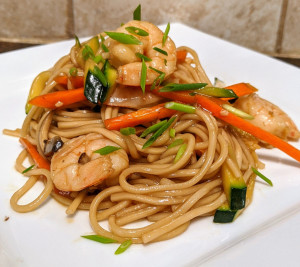 Now that the hard part is over grab a bite and enjoy! This recipe should make a solid 4 servings and accompanies well with a salad with a creamy ginger dressing or some spicy garlic broccoli for an even more veg powered meal.