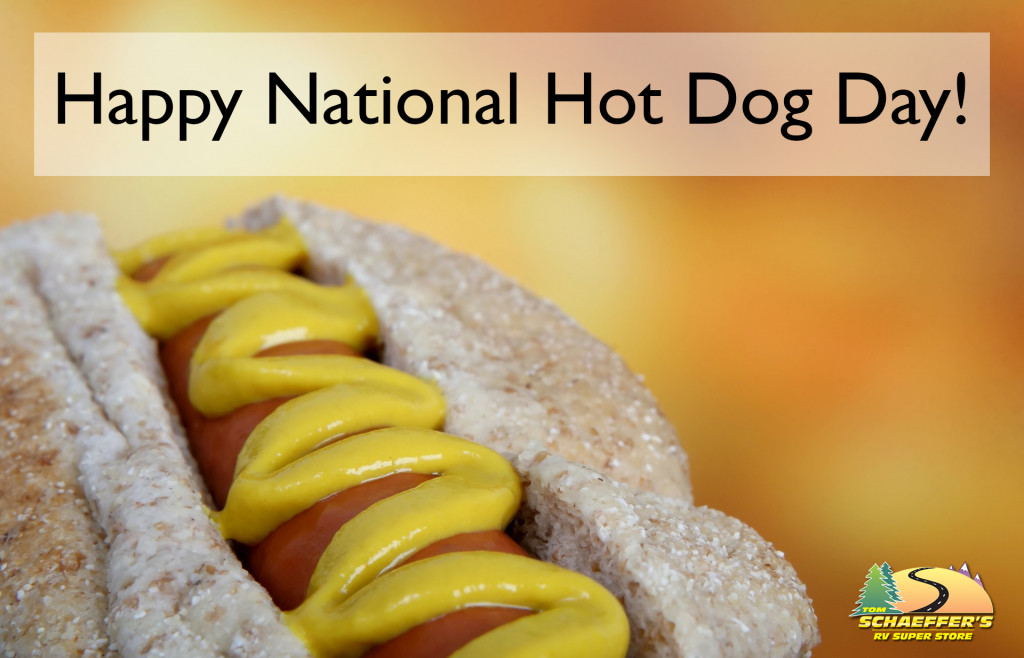 There's nothing quite like a delicious hot dog while sitting around the campfire! In honor of National Hot Dog Day on July 22, 2020, our sales consultant Lee Barto is sharing his delicious recipe for Bacon Popper Dogs. Lee, who is a certified chef by trade, has been in the restaurant hospitality industry since he was 13. He was even a chef in Las Vegas for 6 years at the Bellagio Hotel and Casino and Anthem Country Club. Check out the full list of ingredients and instructions below and be sure to let us know how much you enjoy them!
Bacon Popper Dogs
Preparation & Cook Time: Approximately 25 minutes
Serves 6
Ingredients:
12 fresh jalapenos, seeded with both ends removed
1 pack of Hot Dogs
1 pound of Bacon, thinly sliced (14 – 16 count)
8 ounce pack of Sharp cheddar cheese, shredded
4 ounces bread and butter pickles, chopped
1 White onion, small dice
¼ cup Sweet BBQ sauce of your choice
¼ cup Mayo of your choice
2 tablespoons Yellow Mustard
Hot dog rolls of your choice
Method:
Remove seeds, tops and bottoms of the peppers. Slice one side of cylinder shape to allow the pepper to lay open
Wrap 2 jalapenos around each frank. Wrap with bacon.
Place in fridge for 10 minutes to allow bacon to set around the pepper.
Small dice pickles and onion. Reserve for topping.
Mix BBQ sauce, Yellow Mustard, and Mayo with a whisk until smooth. Reserve for topping.
Grill the wrapped dogs over medium heat with lightly oiled grates until bacon is cooked through and crisp. The internal temperature of your hot dogs should be 165°.
Split your hot dog rolls and top with cheddar cheese.
Place cooked and wrapped pepper dog on the cheese. Allow to rest for 1 minute so cheese melts.
Top with onions and pickles. Drizzle the reserved cause on top of the hot dogs.
Get your napkins ready and enjoy!
Not into hot food? No worries!
Lee has a few tricks up his sleeve to be sure that your classic campfire dog is your best yet! He recommends using a roasting fork to cook your hot dogs over the fire. "Place two hot dogs on at a time if you can. This will allow for internal steam. Having the hot dogs side by side helps create a wall of heat, allowing the hot dogs to cook better," explains Lee.
For your convenience, we have compact roasting forks available for just $3.99 in our camping store. "They get the job done perfectly, and extend up to 33 inches so you don't have to get too close to the fire while cooking and can easily store them once you are done cooking the perfect dog," says Lee.
Since hot dogs come precooked, there's zero chance of accidentally undercooking them. It is best to cook over embers rather than flames. When cooking over an open flame, you are more likely to get a burnt, soot-covered hot dog. If you start your fire at least one hour before you plan to start cooking, it will have enough time to create a bed of embers. Having a bag of charcoal readily available is also helpful if you are short on time.
Another way to help know when your hot dog is ready to eat? "Take a knife and cut lightly about a millimeter deep on both sides of the hot dog. You will want about six slashes on each side. By creating these cross hatches, the hot dog can easily expand so you know when it is ready to enjoy," explains Lee.
Be sure to celebrate National Hot Dog Day by sharing your hot dog photos with us! Tag us on Facebook, Instagram or Twitter.