Quarantine has left many with cabin fever, anxious to get out and enjoy the Summer weather. According to the National RV Dealers Association, roughly 46 million Americans plan to go on an RV trip this year. A survey performed by RVShare revealed that 93% of those vacationing this summer "want to avoid crowds." It turns out that these nearly 50 million Americans just may be onto something.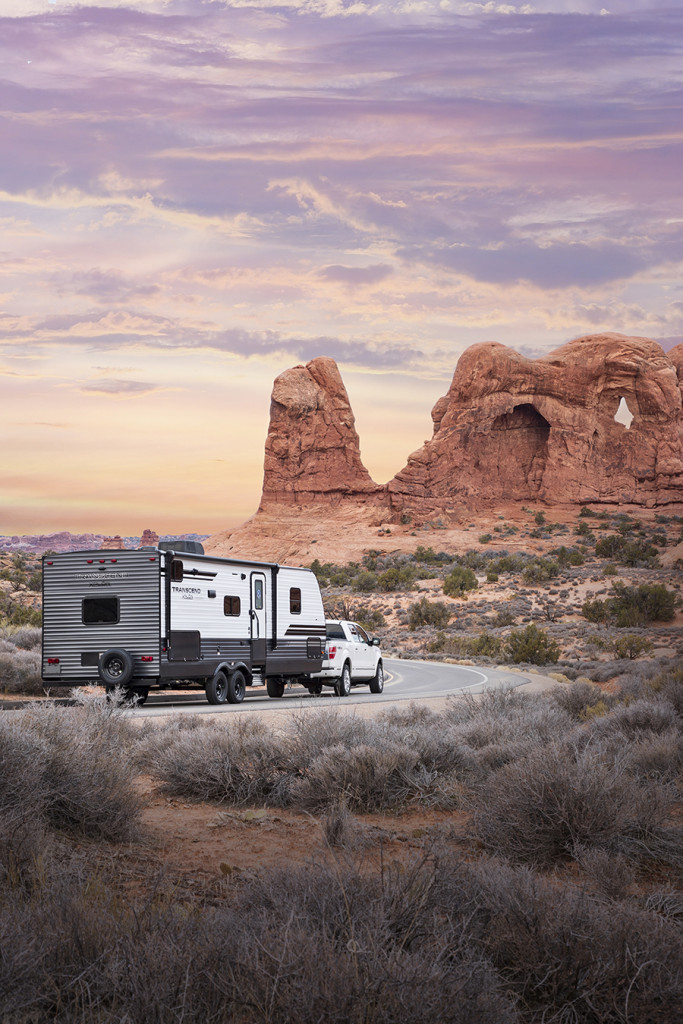 Why RVing May Be the Best Option for You and Your Family
As everyone adjusts to the "new normal" that comes with travel due to COVID-19, having an RV makes traveling possible, as they serve as the perfect vehicle for social distancing. Here's some of the many ways that purchasing an RV can benefit you:
The Experts Encourage Outdoor Activities Over Indoor
As places reopen across the United States, there have been recent spikes of coronavirus cases in certain areas. This has left many wondering "What's safe?" as they try to plan a revised Summer vacation.
The Texas Medical Association COVID-19 Task Force and Committee on Infectious Diseases, recently created a risk-assessment chart. Risk levels are based on the opinions of physician members of the task force. Camping rated as low of a risk as getting takeout from a restaurant, pumping gas, and playing tennis. View the full "Know Your Risk" chart here.
NPR recently interviewed a panel of public health and infectious disease experts to find out the risks of 14 popular summer activities, from shopping at a mall and dining at a restaurant to camping and heading to the beach. The general consensus? Indoor places are riskier than outdoors.
Guess which fun activity is the least risky? Camping! This is due to the fact that you are outdoors and more isolated than other outdoor activities may allow you to be. "As far as summer activities go, this is least risky from a virus perspective," says Rebecca Katz, Director of the Center for Global Health Science and Security at Georgetown University Medical Center. Experts advise being mindful of what may alter risks, such as shared picnic areas and your fellow campers. For more information, read the full article here!
The Freedom Owning an RV Brings
When traveling in an RV, everything is up to YOU. You control everything from your destination to the fact that it is "your house, your rules." That in itself is appealing to many.
Safety & Peace of Mind
You can still get outside and get away while maintaining social distancing standards. It's really a win-win that makes it clear why so many people are trading their plane tickets in for an RV. The risk of traveling by plane is considered "moderate-high risk" while camping is considered "low risk," as depicted by the "Know Your Risk" chart.
Just last week, a couple purchasing their first RV from Tom Schaeffer's explained that they had grown accustomed to traveling throughout Europe, but they were ready to trade staying in Marriott Hotels for an RV due to the peace of mind that it brings. The couple doesn't want to take a chance of getting stranded in another country, and they are excited to travel throughout the United States and experience all that it has to offer in their new RV.
Take Advantage of Those Lower Gas Prices
Certainly, you've noticed the dip in gas prices throughout the duration of the pandemic. Like a cruel joke, we saw the price of gas low as ever during quarantine. Although gas prices have risen a bit since then, they are still lower than usual. It is projected that gas prices are expected to remain low throughout the summer months – a definite plus for RV travelers!
Tips & Tricks For Your RV Vacation
Since RV travel is currently "trending" regular travelers may find that campgrounds are filling up this summer. According to the North American Camping Report, sponsored by Kampgrounds of America, Inc., 47% of travelers who camp have reported that they plan to replace a trip postponed or canceled due to COVID-19 with a camping trip. The majority of National Parks are already booked, and it is recommended to reserve your spot at a campground as early as you can. If you are a first-time RV traveler, it may be best to consider finding a campground or RV park that is fully loaded with hookups, a dump station, and staff on site. Check out KOA.com or ReserveAmerica.com to see available accommodations.
Do Your Research
It is important to know the differences between RVs and whether or not you want to buy a brand new RV or consider a used model. Would a Toy Hauler, Fifth Wheel, or Class A Motorhome work best? A good place to start is by writing down what activities you plan to do in your RV and what features mean the most to you to be sure that you are investing in the best option for you and your family.
Fred, Caramanis, one of our sales consultants, gives the following advice to first time RV buyers: "While looking for the right floor plan, always consider thinking about what you will do in the event that there is bad weather while you are camping." Caramanis encourages people to ponder the question: "If a storm is coming, will my camper be big enough to fit everyone comfortably?"
With 20 years of experience in the industry, he has noticed that one of the main reasons why people wish to trade in their RV is because more space is needed.
If you consider the space and whether or not the RV you are contemplating purchasing is something you can grow into, it just may save you from a hassle down the road. This is another reason why it is a good idea to make a list of all of the activities you plan to use your RV for.
Another tip to keep in mind is that with activities comes needing a place to store things for such activities, from fishing rods to cooking essentials. "The number one reason why people trade in their RV is because they need more storage space," says Caramanis.
Consider Where You Will Get Your Service Done
It is easy to forget to consider who you will turn to when it comes time for your RV to need service, especially in the midst of the joy that buying a new – or perhaps your first – RV can bring. Founder of RV Advisor, Gigi Stetler, discusses the importance of doing business with your local dealer in a National Geographic article discussing vacationing by RV this summer. Stetler encourages "newbies" to "support local dealers, as it will help mitigate maintenance complications down the road because you're going to need them for service work."
Scott Schaeffer, General Manager of Tom Schaeffer's RV Super Store, reiterates this point: "Unfortunately, we sometimes have to turn away people from out of state who may not have purchased their RV from us. This is not because we don't care. We have no choice but to do this when our service department is swamped, as those who have purchased an RV from us are our top priority."
Due to the current high demand for RVs and it being Tom Schaeffer's busy season under normal conditions, the service department is backed up by almost 2 months. "If we would take in every out of state customer in need of service, we would have an even longer wait time to get an appointment, and that would not be fair to our long-time customer. We pride ourselves on providing quality sales and service, and sometimes that means having to make some tough choices to look out for our customers in the event that they need unexpected service," explains Scott.
There's a lot of information out there, and sometimes doing your research can get overwhelming. We get that! At Tom Schaeffer's, we have over 65 years of experience under our belt and are more than happy to assist you and answer any questions you may have. Please feel free to contact us today.