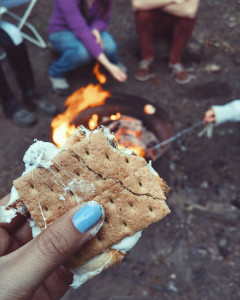 Our taste buds are rejoicing because our sales consultant, Lee Barto, is back with another delicious recipe!
(If you missed his recipe for Bacon Pepper Dogs on National Hot Dog Day, be sure to catch it here!)
Today Lee is sharing a recipe for his toasted Nutella S'Mound Cake with Vanilla Bean Ice Cream in honor of National S'mores Day, which takes place on August 10 every year. Be sure to mark your calendar so you have no excuses to miss it next year!
Toasted Nutella S'Mound Cake
Preparation & Cook Time: Approximately 10 minutes
Serves 6 per pound cake
Ingredients:
Fresh pound cake from your local market
Nutella
Graham Crackers
Large Marshmallows
Vanilla Bean Ice Cream
Method:
Slice pound cake in 1-inch slices and toast it over an open flame fire or on the grill.
Toast marshmallows just as you would if making s'mores.
Once the pound cake is toasted, top it with as much Nutella as you wish.
Once the marshmallows are toasted to your liking, top the Nutella pound cake.
Add a scoop of vanilla bean ice cream and crushed graham crackers.
Let us know how you enjoy them! Share your photos and tag us on Facebook, Instagram or Twitter.