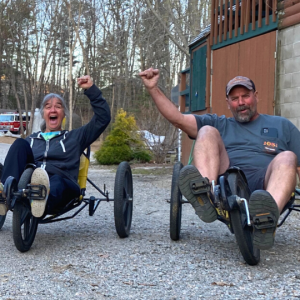 We're pleased to introduce full-time workampers, Michael and Sheila Bressler, the latest RV Adventurers to join our #FamilyFridayCheckin crew. The Bresslers began camping together as teens and now have 30 years RVing experience under their belts. They started tent camping, upgrading through the years, first to a pop-up camper, then several travel trailers, a Class C, and finally a 2018 Grand Design Solitude 310 GK-R. RV traveling is their perfect match because they love the outdoors but are most comfortable having their own space and personal belongings.
How did Sheila and Michael discover workamping, a combination of working and camping? During a three-week vacation out west to a national park through the campground host, a title they never heard before. They asked him how he became a campground host, which seemed like a dream job to them. He told them he gave up sticks and bricks living years earlier to live and work full time in his RV. It was then they discovered the magic of workamping and knew it was the lifestyle choice for them.
Get to know the Bressler's and learn all about their journey into Workamping by reading their full interview below:
How long have you been RVing for? Over 30 years
How did you first become interested in RV travel and the RV lifestyle? We have been camping together since we were teenagers! We have camped in a tent, a pop up, several travel trailers, a Class C and now a fifth wheel. We have always loved to travel and find we are most comfortable when we have our own space and personal belongings with us. We love the outdoors and RV travel fits well with that passion.
What do you love most about RV Travel and the RV Life Style? Being in an environment with other like-minded people who love and respect the outdoors. The RV lifestyle has also afforded us the opportunity to vacation and see the country while staying within a budget.
Why did you choose your specific RV Model? We currently have a 2018 Grand Design Solitude 310 GK-R. We chose that model because it seemed to be the right size (not too big, not too small), has lots of kitchen counter space, and plenty of storage. We love the Solitude fifth wheels for its open floor plan and big beautiful windows.
What made you decide to commit to full-time RVing? We had worked hard our entire lives and were ready to get away from the daily grind and move on to new adventures. We wanted to simplify our lives, focus more on living and less on working.
How did you first come across workamping, a combination of working and camping? During a three-week vacation out west, we stayed at a campground in a National Park. Upon arrival were greeted by a gentleman who introduced himself as the campground host. Although we had camped for over 20 years, this was the first time we were hearing the term "campground host". The gentleman explained what a campground host was and told us that he and his partner had given up the "sticks and bricks" living years ago for a life of living and working full time in their RV. At that moment, something inside us shouted "we want to do that"!!!
What type of research/ and what resources were helpful while you were learning about work camping? There are several online organizations that can help folks determine if the workamping lifestyle is right for them. There are numerous YouTube videos, blogs and articles to provide all the information someone needs to get started and find jobs. We also joined various facebook groups, watched webinars, subscribed to magazines, and spent time talking with other workampers.
How did you know that work camping was a good fit for you/ why did it appeal to you? Obviously, we both love to camp so that was the main reason for becoming workampers. We also felt that we have skills that could benefit employers who hire workampers. We are both hard working, value customer service and want to be a part of improving the camping experience for guests.
How long have you been work camping for? We began our first workamping job in June 2020 as volunteer campground hosts in a PA State Park. Since then, we have worked at a Sugar Beet Harvest and a private campground.
What advice do you have for anyone considering work camping/ full-time RVing?

You will not get rich being a workamper, so we suggestion going into the lifestyle with little to no debt.
Be prepared to downsize your belongings. Guaranteed you will not be able to fit all your belongings from your "sticks and bricks" house into your camper.
Be flexible. Things will not always go as planned. Embrace the chaos and the change.
Be open to the adventure. Life on the road will be different but amazing!
Be willing to learn new things. There are all types of companies who hire workampers. Use this as an opportunity to explore different types of jobs and work environments.
Make sure you get along with whoever you will be living with in your RV. The space is small and you will be spending LOTS AND LOTS of time together!
What was your favorite assignment? We both really enjoyed being volunteer Campground Hosts in the State Park in PA and working maintenance and guest services at a privately owned campground in New Hampshire.
What was the most beautiful site you saw on your travels? Hands down our favorite RV trip so far is the family vacation we took out west in 2008. The Badlands of SD, Glacier National Park in MT, and the Grand Tetons of WY are spectacular! The view from the top of Mackinaw Island in Michigan is beautiful as well.
What is your funniest memory from you RV travels/ assignments? Laughing, shouting and racing around a campground on pedal bikes with fellow workampers prior to opening day. Since the bikes had been in storage over the winter, some of the tires had gone bad. During our race, we blew out two tires which sounded like an explosion! It wasn't long after our shenanigans, the cops showed up to investigate the noise and make sure the campground was secure. They thought it was a bunch of kids creating a ruckus and it turned out to be a bunch of 50 year old adults! It was a great way to bond with our new co-workers and have some fun in the process!
Have you met any new friends through your travels/ assignments? Absolutely! We still keep in touch with many of them and are looking forward to making more friends in our future adventures!
Do you have a favorite story or memory you would like to share about your experiences? On the last day of our assignment at the PA State Park as campground hosts, we organized a picnic for all the park rangers. That was the first summer of the COVID virus and it was a challenging time for everyone. The rangers worked especially hard that season and we wanted to make sure they knew that they were appreciated.
Please share anything else that you think people interested in transition to work camping/ RVing full-time should know: If you think it is something you want to do, don't wait. DO IT NOW!