A conversation with Tom Schaeffer's RV
The RV buying process can feel completely overwhelming and intimidating: It is a process that normally has to be lived to be understood. In this vlog, we dig into the RV buying process in the hopes of making it less overwhelming. We chatted with our wonderful sales consultant, Sean Shanoskie, who helped us when we bought our RV. He gave us a behind-the-scenes perspective on understanding the sales process at Tom Schaeffer's RV. We also got some great tips and insight about what to do and ask when preparing to buy an RV, to help it go as smoothly as possible and to help you can feel ready to go through the RV buying process yourself.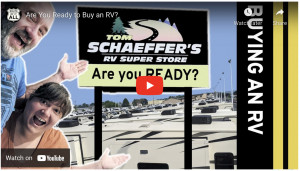 The questions covered in the conversation:
When an RV arrives on your lot, what happens before customers see it?
When a customer can't come to see the RV in person, how do you work with them?
What would be a good question a customer should ask themselves when looking for an RV?
Once an agreement is made between dealership and customer on price, what happens on your end prior to the customer picking up the RV?
If the customer needs financing, what does that process look like at Tom Schaeffer's?
Can you walk us through what happens on the day a customer picks up their RV?
What are some things you would recommend that the customer do to make the RV buying process run more smoothly?
Do you have any other advice you would like to share that we didn't cover
We had a wonderful time chatting with Sean and Kristen from Tom Schaeffer's RV. It was such a great opportunity to receive and share some insight into just what goes into buying an RV from a dealership. We were so nervous when we bought our RV: we hope this vlog will bring peace of mind to those going through the RV buying process themselves.
Find more out about The Route of It All: https://www.therouteofitall.com